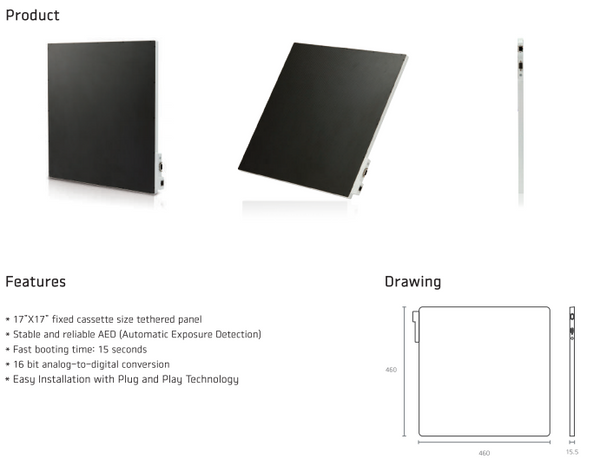 #HVN054-WKS   VIVIX-S DR 1717N Cassette-Sized Tethered Gadox Panel with Acquisition Workstation
Scintillator Amorphous Silicon: Gadolinium Oxysulfide Gd₂O₂S:Tb (Gadox)
 VIVIX-S DR 1717N Cassette-Sized Tethered Gadox Detector System  includes:  17x17 Cassette-Size Tethered Gadox Flat Panel Detector, System Control Unit SCU (FXRP-02A), Cables, Acquisition Workstation, VXvue with PureImpact™ DR Acquisition Viewer for VIVIX-S Series, Five (5) Year Panel Manufacturer Warranty and One (1) Year Remote Technical Support
 VIVIX DR Acquisition Workstation
Model:  Dell Optiplex 7060, includes:
- ProSupport Plus: Next Business Day On-Site 3 Years
- ProSupport Plus: Keep Your Hard Drive, 3 Years
- ProSupport Plus: Accidental Damage Service, 3 Years
- 8th Gen Intel Core i7 vPro Processor (6 Cores/12 MB/3.2 GHz)
- Preloaded OS: Windows 10 Pro 64
- 16 GB (2X8GB) DDR4, 2666 MHz UDIMM
- Intel Integrated Graphics
- 8x DVD+/-RW 9.5mm Optical Disk Drive
- 1TB Local Mini-PACs in a RAID 1 (2 drives total)
- VXvue with PureImpact™ DR Acquisition Viewer for VIVIX-S Series
- 24" LED-backlit LCD Touchscreen Monitor (Advanced Exchange Service, 3 Years)
 Concurrent Viewers:
Ten (10) Local Area Network (LAN) Viewers, 
DICOM Send 
- Multi Destination, 
DICOM Print,
DICOM MWL Modality Worklist (Optional), 
User Friendly Touch Screen GUI, 
Measurement Tools, 
including: Auto and Manual Selection, Archive, Image Preview, Magnify, Zoom, Pan, Annotation, Window Level, Rotate, Repeat/Reject, L/R Marker.
 
Acquisition Workstation Hardware Warranty: Three (3) Years on Workstation and the Monitor.
Shipping - Delivery shall be made at FOB shipping point of origin. Seller's responsibilities for the Equipment purchased pursuant hereto ceases and title and risk of loss passes to Customer upon delivery to the carrier. In the event of loss, damage, injury or destruction after such delivery to the carrier, claims must be made against the carrier and not against Seller. In no event shall any loss, damage, injury or destruction operate in any manner to release Customer from the obligation to make payments required herein. Returns - Unless a product is labeled "all sales final" at the time of purchase, all orders may be returned within 30 days for a refund. In order to return or exchange (under the guidelines described below) all or part of your order, customer must contact us for a Return Merchandise Authorization number (RMA#). Call toll free (800) 949-8015 to obtain RMA # from a Seller's representative. All returned merchandise must be in the original packaging including manuals, accessories, cables, etc. with the authorization (RMA#) clearly printed on the outside of the package. Return requests must be made within 30 days of the receipt date. All returns must be certified to be in good condition by one of our engineers before refund can be accepted. If the product has been damaged, seller will assess the damage and will determine if the product is entitled to a refund. All free items must be returned together with purchased items in order to receive a refund. Any shipping and/or handling charges on the original order cannot be refunded. At our discretion, we may levy a restocking fee of 25% of the cost of items returned. Any vouchers or gift certificates earned by a returned order will be voided, and the voucher amount will be charged to any order to which it was applied. Installation, training or professional services are NON-REFUNDABLE. Seller is responsible for shipping costs or damage on returned items. Units to be returned should be packed carefully. Please be advised that packages sent by normal US Postal Service cannot be tracked to ensure delivery. Since Seller cannot provide credit for a return without confirming its receipt, we recommend that you use a delivery service that can be tracked and or insured.