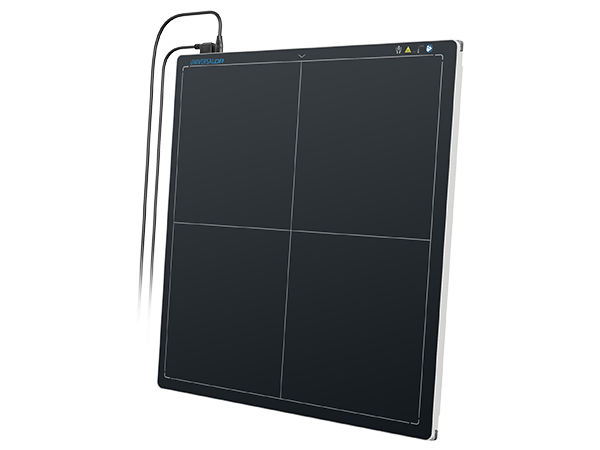 Hybrid CESIUM 17x17 (43x43cm) Cassette Size/thickness Detector with integrated handle "Point, Click & View" Process > 100 Images per hour
Hybrid Features: 3 Unique Operating Configurations
Wireless
Wired Power Connection
Tethered (Wired/Fixed) power & data connection (kit incl; cable wrap, clamps, zip ties)
DR Panel Features:
16 Bit High-Quality Image Transfer Interface 3.6 lp/mm
Advanced Image Processing - Artifact Free & Consistent High Image Quality
9.5 lb. Lightweight Design for Ease of Handling
1 Rechargeable Battery with Charger
Fits Directly in Existing Cassette Tray
OPAL RAD DICOM Image Viewer Software
Automatic setting of acquisition parameters according to body part and system-specific programmable APR's (Anatomically Programmed Radiography) Exam Foldering
Computer Workstation

DELL Precision T3450 XE Acquire/Mini-PACS Standard Resolution Diagnostic Viewer Workstation
Windows 10 Operating System
Intel Core i5-11500 Processor (6 Core, 12 MB cache, up to 4.6 GHz)
M.2 256GB PCIe NVMe Class 40 Solid State Drive 256GB MNVe SSD (system)
2 x 2TB 5400RPM SATA Hard Drive Raid 1 image storage
8GB 2666MHz DDR4 for Precision Workstations
Small Form Factor Tower Case
24" DELL Touch Screen 1080p Monitor
Onboard Intel DVMT Video Card
DVD-RW Drive
600 VA Uninterruptible Power Supply
USB 3.0 Interface Intel AC-Wireless & Bluetooth
Opal-Chiro DICOM Image Viewer Software Package
Allows access to patient images from 5 Concurrent Web Viewers In Office/Web Locations Chiropractic Analysis and Diagnostic Software Window Level, Magnify, Zoom, Rotate, Tools Include: Cobb Angle/Measurements, George's Lines, Adv. Orthogonal, Gonstead Installed on Customer Provided PC/Laptop Configured to 20/20 Imaging Specifications Opal Chiro Multi-Image Auto-Stitch Software Opal Modality Worklist (MWL) Query
Warranty:
5 Years DR Panel Hardware
5 Years Remote Software Support
3 Year - Dell PC Manufacturer Warranty
12 months parts: Monitor, External Hard Drives, Keyboard/Mouse, Cables
Shipping - Delivery shall be made at FOB shipping point of origin. Seller's responsibilities for the Equipment purchased pursuant hereto ceases and title and risk of loss passes to Customer upon delivery to the carrier. In the event of loss, damage, injury or destruction after such delivery to the carrier, claims must be made against the carrier and not against Seller. In no event shall any loss, damage, injury or destruction operate in any manner to release Customer from the obligation to make payments required herein. Returns - Unless a product is labeled "all sales final" at the time of purchase, all orders may be returned within 30 days for a refund. In order to return or exchange (under the guidelines described below) all or part of your order, customer must contact us for a Return Merchandise Authorization number (RMA#). Call toll free (800) 949-8015 to obtain RMA # from a Seller's representative. All returned merchandise must be in the original packaging including manuals, accessories, cables, etc. with the authorization (RMA#) clearly printed on the outside of the package. Return requests must be made within 30 days of the receipt date. All returns must be certified to be in good condition by one of our engineers before refund can be accepted. If the product has been damaged, seller will assess the damage and will determine if the product is entitled to a refund. All free items must be returned together with purchased items in order to receive a refund. Any shipping and/or handling charges on the original order cannot be refunded. At our discretion, we may levy a restocking fee of 25% of the cost of items returned. Any vouchers or gift certificates earned by a returned order will be voided, and the voucher amount will be charged to any order to which it was applied. Installation, training or professional services are NON-REFUNDABLE. Seller is responsible for shipping costs or damage on returned items. Units to be returned should be packed carefully. Please be advised that packages sent by normal US Postal Service cannot be tracked to ensure delivery. Since Seller cannot provide credit for a return without confirming its receipt, we recommend that you use a delivery service that can be tracked and or insured.