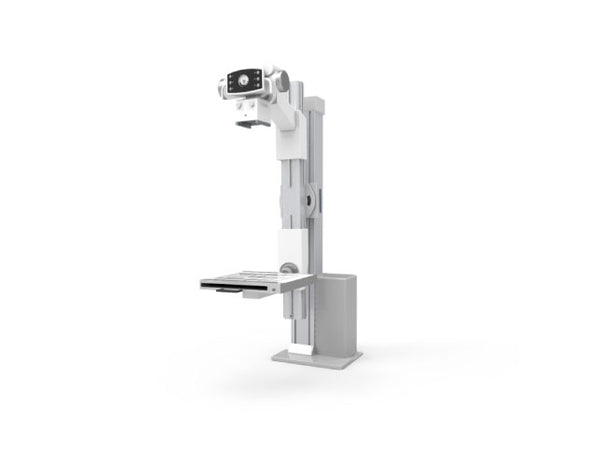 Fully motorized Straight arm system.
Minimized and optimized for limited space to fit in a room with 8′ ceilings.
The SA1000 provides a cost-effective flexible imaging solution that satisfies a wide range of radiographic exams for a wide range of settings such as  Urgent care, Doctors' offices as well as Orthopedic practices &  Chiropractors.
Any view is simple to get with just a push of a button.
System:
Single panel multipurpose radiographic straight arm system providing cost effective solutions for a wide range of radiographic exams.

Compact system, fits in a rooms as compact as 10x10ft.

Comes pre-configured for your choice of panel.
Specifications:
SA 1000 Overview Movements
Dimensions: 80.9"W x 90.5"H x 30.3" D

Motorized SID: 39.4" to 70.8"

Vertical Movement: ( Motorized ) 50.7" 

Arm Rotation Angle: +120° to -30 °

Single button control on Remote for Chest or Table position views

Tube Rotation: +/- 90 °

Bucky Tilting ( Manual ) +/- 45 °

Positioning Controls- Tube head push button controls for SID distance, Height of Straight Arm and angulation of Arm which is alse available on the Remote Control.                                                      Angulation of Detector is manual after lock release.

Anti- Collision sensor on Arm and Detector, stops movement and moves arm back 3.9" on resistance of 22 lbs or greater 
X-ray Generator
Standard CPI 32 kW High Frequency, Option 40 kW
X-ray Tube
Toshiba 140 kHU 1.0-2.0 focal spot, Operating Voltage 40-125kV

High Voltage cables -10m
Collimator
Manual LED over 160 Lux, 30 sec timer. Filter 1.2mm, AI, rated Tube voltage 125kVp
Grid 
Optional Mobile Table 
Dimensions : 77"L x 28.6"W x 27.6"H 

Table working load -485 lbs

Locking wheel casters
Digital DR Package
Exprimer 17" x17" Tethered DR panel

Voyance Software+ VPACS

Dell Computer with 24" Display
Shipping - Delivery shall be made at FOB shipping point of origin. Seller's responsibilities for the Equipment purchased pursuant hereto ceases and title and risk of loss passes to Customer upon delivery to the carrier. In the event of loss, damage, injury or destruction after such delivery to the carrier, claims must be made against the carrier and not against Seller. In no event shall any loss, damage, injury or destruction operate in any manner to release Customer from the obligation to make payments required herein. Returns - Unless a product is labeled "all sales final" at the time of purchase, all orders may be returned within 30 days for a refund. In order to return or exchange (under the guidelines described below) all or part of your order, customer must contact us for a Return Merchandise Authorization number (RMA#). Call toll free (800) 949-8015 to obtain RMA # from a Seller's representative. All returned merchandise must be in the original packaging including manuals, accessories, cables, etc. with the authorization (RMA#) clearly printed on the outside of the package. Return requests must be made within 30 days of the receipt date. All returns must be certified to be in good condition by one of our engineers before refund can be accepted. If the product has been damaged, seller will assess the damage and will determine if the product is entitled to a refund. All free items must be returned together with purchased items in order to receive a refund. Any shipping and/or handling charges on the original order cannot be refunded. At our discretion, we may levy a restocking fee of 25% of the cost of items returned. Any vouchers or gift certificates earned by a returned order will be voided, and the voucher amount will be charged to any order to which it was applied. Installation, training or professional services are NON-REFUNDABLE. Seller is responsible for shipping costs or damage on returned items. Units to be returned should be packed carefully. Please be advised that packages sent by normal US Postal Service cannot be tracked to ensure delivery. Since Seller cannot provide credit for a return without confirming its receipt, we recommend that you use a delivery service that can be tracked and or insured.