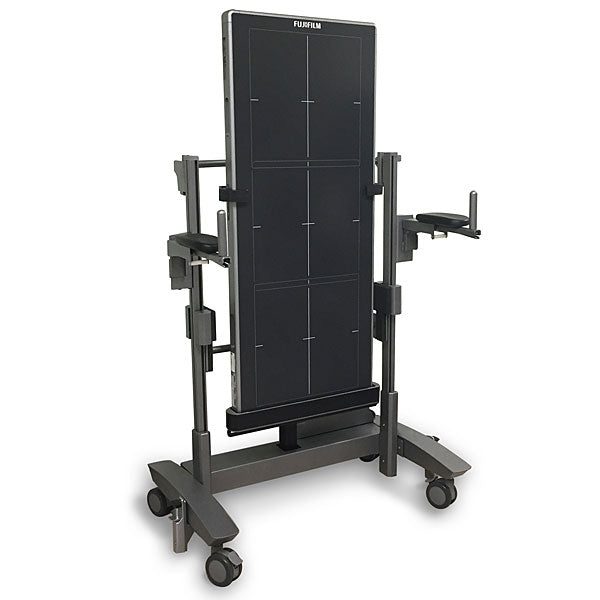 The world's first single exposure long-length DR detector. Achieve better patient satisfaction and reduce patient dose with FDR D-EVO GL
This long-view single exposure detector ensures consistent, easy patient positioning and repeatable image acquisition, reducing exam discomfort for a better patient experience.
FDR D-EVO GL is 17x49 inches, expanding the traditional 14 inch CR long length field of view by 3 full inches to better accommodate a variety of patient sizes and help prevent retakes due to anatomy cut off.
Compared to multi-exposure DR, FDR D-EVO GL enhances the workflow of long-view radiography by capturing the entire image in a single exposure in just a few seconds, reducing the chance for patient motion-induced artifacts and time for the patient to remain still.
Low DR dose and simplified image acquisition compared to CR
Single exposure capture and reduced acquisition time compared to multi-exposure DR
Increased patient safety and comfort through faster exam completion and lower dose
Refined Dynamic Visualization image processing produces exceptional images
FDR D-EVO GL utilizes the latest Fujifilm digital image processing technology, including Dynamic Visualization, which optimizes image display based on recognition of contrast levels throughout the entire exposure field. The resulting first-up images have outstanding detail and greater window and leveling capability in PACS.
Intelligent Virtual Grid image processing for situations where grid use can be challenging
Virtual Grid intelligent image processing replaces the use of a grid to enhance contrast and improve clarity while reducing dose as much as 50% compared to exams performed with a grid.
Patented ISS capture technology promotes high sensitivity
Fujifilm's proprietary Irradiated Side Sampling (ISS) positions its capture electronics (TFTs) at the irradiation side, in contrast to traditional detectors. This design significantly suppresses scattering and attenuation of X-ray signals, improving efficiency to produce sharper images at lower doses compared to traditional designs.
Noise reduction circuitry improves sensitivity in high absorption regions
A unique, Fujifilm innovation in noise reduction circuitry maximizes signal strength to improve image quality in high absorption areas. This enhancement achieves 1.7 times the DQE of previous models, with as little as 0.03mrad dose. Visibility of dense areas such as the heart and mediastinum is greatly improved.
SmartSwitch Technology
Fujifilm's SmartSwitch technology enables automatic x-ray detection. FDR D-EVO GL automatically senses exposures to trigger image capture, allowing easier, faster interfacing with any x-ray system
Shipping - Delivery shall be made at FOB shipping point of origin. Seller's responsibilities for the Equipment purchased pursuant hereto ceases and title and risk of loss passes to Customer upon delivery to the carrier. In the event of loss, damage, injury or destruction after such delivery to the carrier, claims must be made against the carrier and not against Seller. In no event shall any loss, damage, injury or destruction operate in any manner to release Customer from the obligation to make payments required herein. Returns - Unless a product is labeled "all sales final" at the time of purchase, all orders may be returned within 30 days for a refund. In order to return or exchange (under the guidelines described below) all or part of your order, customer must contact us for a Return Merchandise Authorization number (RMA#). Call toll free (800) 949-8015 to obtain RMA # from a Seller's representative. All returned merchandise must be in the original packaging including manuals, accessories, cables, etc. with the authorization (RMA#) clearly printed on the outside of the package. Return requests must be made within 30 days of the receipt date. All returns must be certified to be in good condition by one of our engineers before refund can be accepted. If the product has been damaged, seller will assess the damage and will determine if the product is entitled to a refund. All free items must be returned together with purchased items in order to receive a refund. Any shipping and/or handling charges on the original order cannot be refunded. At our discretion, we may levy a restocking fee of 25% of the cost of items returned. Any vouchers or gift certificates earned by a returned order will be voided, and the voucher amount will be charged to any order to which it was applied. Installation, training or professional services are NON-REFUNDABLE. Seller is responsible for shipping costs or damage on returned items. Units to be returned should be packed carefully. Please be advised that packages sent by normal US Postal Service cannot be tracked to ensure delivery. Since Seller cannot provide credit for a return without confirming its receipt, we recommend that you use a delivery service that can be tracked and or insured.