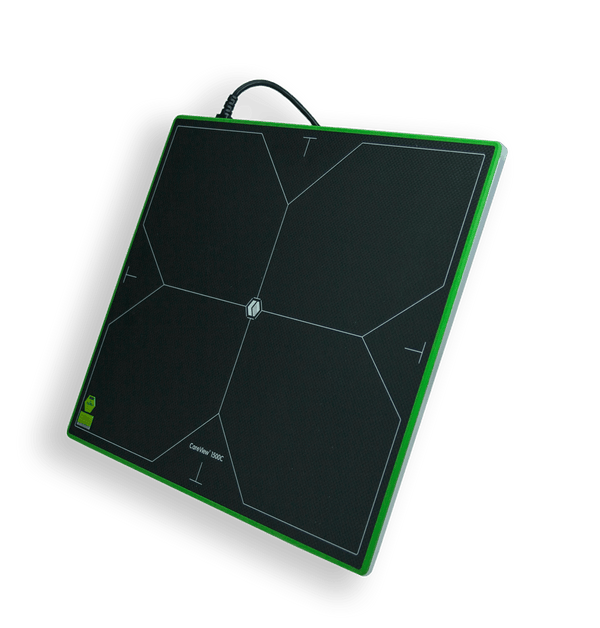 Used Careray Wireless 14 x 17 DR panel package
CareView 1500-Cw: 14"x17" Wireless Detector with CesiumIodide (Csl) Scintillator
• Scintillator: Cesium-Iodide (Csl)
Active Area: 14" x 17" (434 x 355mm)
• Pixel Array: 2816 x 2304
• Pixel Pitch: 154 micron (Nyquist Resolution 3.3 lp/mm)
• Grayscale: 16 bits
• Dimensions: 18.1" x 15.1" x .59" (460 x 384 x 15mm) • Weight: 8.1 lbs. (3.7kg)
• AED – Automatic Exposure Detection – Eliminates wiring to generator
• Built-in foldable handle
• rubber insulated frame
• high strength aluminum alloy back
• carbon fiber front Includes: Power Supply: (100-240 V AC), Battery Communication Interface: Gigabit Ethernet 2.4/5GHz, 300Mbps Standard Gigabit Ethernet port for optional wired operation and battery charging 5-Yr Warranty on DR detector for manufacturing defects (See optional detector warranty extension)
*Detector panel warranty term is five years (60 months) Covers mechanical failure and malfunction of the products caused by a deficient design, factory defect and faulty workmanship per manufacturer's conditions/terms or as specified differently in quote text.
Battery 1 year. 2 -
Batteries 1 - Charging Station
O and R DR Acquisition Console Software

• Patient Registration: Manually or (DMWL) DICOM Modality Worklist. DICOM Modality Worklist is a standard feature and is available for use provided that the HIS/RIS accommodates Modality Worklist.
• Processing Parameter Settings: Pediatric, Small, Medium, Large Adult, Edge Enhancement, Histogram, Contrast, Latitude
• Image Acquisition & Review QC: flip (horizontal/vertical), rotate (clockwise/counter-clockwise), zoom, pan, window/level, magnifying glass, crop, annotations line measurement, angle measurement, free text, arrow, L&R Markers, Cobb's Angle Measurement, Norberg Angle Measurement • Allows for secondary/dual monitor display • Emergency Mode: Allows exam to be conducted while no patient data available • Image Preview • DICOM Send to PACS, Auto-PACS Send
• DICOM Print to DICOM Printer
• DICOM Storage Commitment
• Hard disk capacity notification bar
• Export images formatted as .jpg, .png, .bmp, and DICOM (with or without Viewer) to CD or other media
• Export/Back-up to DVD/Removable Drive
• Procedure Code Matching – Matches body part and projection items with RIS/HIS code
• Database: Shows list of stored images after acquisition
• Compare two images side-by-side
• Delete Image
• Repeat- Reject function with operator statistics
• Grid Line Removal
• Stitching Software
• AED Mode – Automatic Exposure Detection: The detector detects the actual amount of x-rays without any connection to the X-ray generator, and then performs image acquiring according to image acquisition time and transmits the image data – No signal used (no need to connect to generator interface cable)
• Exposure Index

Dell Precision 3430 Small Form Factor (Min. Configuration):
Intel Core i5-8500, 6 Core, 9MB Cache, 3.0GHz, 4.1Ghz Turbo w/ HD Graphics 630
Windows 10 Professional
1 TB Hard Disk
8 GB RAM
24 inch Monitor
Workstation pre-configured and with the Software installed
 Dell ProSupport. For tech support, visit //support.dell.com/ProSupport or call 1-866-516-3115
Dell Limited Hardware Warranty Plus Service
ProSupport: 7x24 Technical Support, 3 Years
ProSupport: Next Business Day Onsite, 3 Years
Shipping - Delivery shall be made at FOB shipping point of origin. Seller's responsibilities for the Equipment purchased pursuant hereto ceases and title and risk of loss passes to Customer upon delivery to the carrier. In the event of loss, damage, injury or destruction after such delivery to the carrier, claims must be made against the carrier and not against Seller. In no event shall any loss, damage, injury or destruction operate in any manner to release Customer from the obligation to make payments required herein. Returns - Unless a product is labeled "all sales final" at the time of purchase, all orders may be returned within 30 days for a refund. In order to return or exchange (under the guidelines described below) all or part of your order, customer must contact us for a Return Merchandise Authorization number (RMA#). Call toll free (800) 949-8015 to obtain RMA # from a Seller's representative. All returned merchandise must be in the original packaging including manuals, accessories, cables, etc. with the authorization (RMA#) clearly printed on the outside of the package. Return requests must be made within 30 days of the receipt date. All returns must be certified to be in good condition by one of our engineers before refund can be accepted. If the product has been damaged, seller will assess the damage and will determine if the product is entitled to a refund. All free items must be returned together with purchased items in order to receive a refund. Any shipping and/or handling charges on the original order cannot be refunded. At our discretion, we may levy a restocking fee of 25% of the cost of items returned. Any vouchers or gift certificates earned by a returned order will be voided, and the voucher amount will be charged to any order to which it was applied. Installation, training or professional services are NON-REFUNDABLE. Seller is responsible for shipping costs or damage on returned items. Units to be returned should be packed carefully. Please be advised that packages sent by normal US Postal Service cannot be tracked to ensure delivery. Since Seller cannot provide credit for a return without confirming its receipt, we recommend that you use a delivery service that can be tracked and or insured.