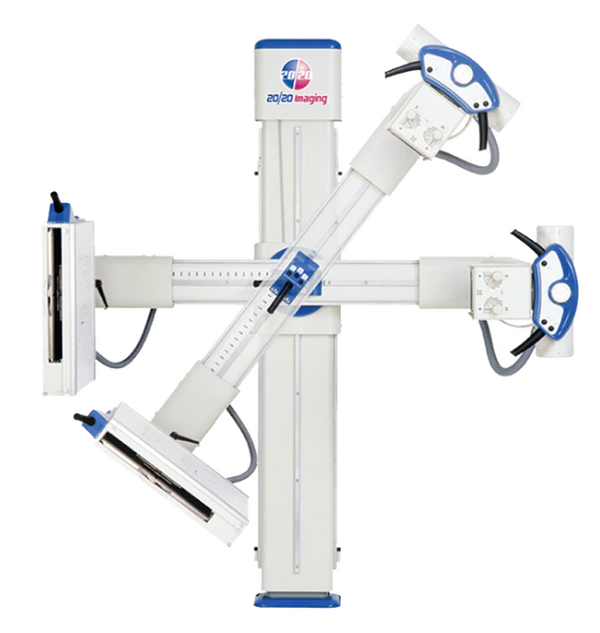 20/20 Compact DR system: is an integrated system for all conventional radiographic applications in combination with a High Frequency Generator, making the Straight Arm the most advanced system available.
The system has been designed focusing on flexibility and user friendliness. It can be further configured depending on your exact clinical requirements.

Configuration:
- Floor Mount 8' 6"
- H.T. cables
- Manual Collimator
- Cesium Detector Technology - 17" x 17" Active Imaging Area
- 3 Phase 50kw High Speed Generator
- 300khu X-Ray Tube
Mechanical Swivel Arm with Flat Panel Cabinet
- Floor-to-wall mounted support
- Electromagnetic brakes for all movements
Mechanical Movements:
- Motorized variable SID distance, adjustable between 39.4 to 70.9".
- Swivel arm range of rotation: 135°, with detents on 30°, 0°, 90°, 120°.
- Motorized Swivel arm vertical movement: 39".
- Minimum floor to detector center distance: 27.6'
- Detector Angulations: +45/-45°
- Electromagnetic brakes for all movements
- Adaptation for flat panel cabinet.
- Dimensions (H x W x D): 8' 9" x 7'4" x 4'6".
3 Phase 50kw High Speed Generator
50kW/150kV Anatomical Program Microprocessor Controlled
High Frequency 25KHz, 1 tube operation
Single phase 208/240 VAC (specify prior to order)
Output power:
640 mA @ 78kVp
500 mA @ 100kVp
400 mA @ 125 kVp
320 mA @ 150 kVp
Automatic line compensation +/-10%
Microprocessor controlled with auto diagnostic and error code indication for easy maintenance
X-ray tube overload protection
X-ray tube H.U. available indication and continuous monitoring for x-ray tube protection
Control of x-ray tube number of exposures
Hand switch for preparation and exposure control
Light and sound indication for x-ray exposure
kVp Radiographic range, from 40 to 125 kVp in 1 kVp step
mA Radiographic range from 10 to 640mA in 19 step, Renard scale10,12.5,16,20,25,32,40,50,64,80,100,125,160,200,250,320, 400, 500 and 640 mA
mAs range from 0.1 to 500 mAs in 38 steps, Renard scale
Exposure time range from 0.001 to 10 seconds
300khu X-Ray Tube
Maximum Tension,150 kVp
Focus sizes: Small focus 0.6 mm (0.023) Large focus 1.2 mm (0.047)
Maximum power: Small focus 20 KW Large focus 50 KW
Maximum Current Small focus 290 mA Large focus 800 mA
Anode degree target angle 12 degrees
Anode heat capacity 300,000 HU
Anode rotation 2,700/3,200 RPM
Anode composition Rhenium,Tungsten and face Molybdenum
Anode diameter 2.9
Filtration equivalent 0.7AL
High Speed Starter for one X-Ray tube:
Starter for anode rotation of one x-ray tube of equal or different impedance
Anode Rotation Brake control
Time delay of the brake in function of the sequence of exposure selected
Manual Collimator
- Manual collimator with 6 pair of blades
- Accessory rails (cones, filters, etc)
- Field light lamp (light of the lamp 160 lux)
- Light indicator for alignment with the bucky
- Lamp timing
- Retractable measuring tape
High Tension Cables (2) 9 meter Ultra Flexible High Tension Cables
PRODUCT WARRANTIES
20/20 CSA X-Ray Equipment
12 Months Parts (Mechanical)
CFPT Detector 
60 Month Manufacturer Warranty
DELL Precision T3450 XE Computer Components (PC, monitors, related)
36 Months Specific to Manufacturers Warranties
Peripherals
12 Months Parts
ie. monitor, external hard drives, keyboard/mouse, cables
SYSTEM SUPPORT
Dealer Remote Support:
60 Months Remote Support 
Includes all software revisions
Customer supplied internet access is required prior to system install for remote diagnostics. Network is the responsibility of the customer.
Shipping - Delivery shall be made at FOB shipping point of origin. Seller's responsibilities for the Equipment purchased pursuant hereto ceases and title and risk of loss passes to Customer upon delivery to the carrier. In the event of loss, damage, injury or destruction after such delivery to the carrier, claims must be made against the carrier and not against Seller. In no event shall any loss, damage, injury or destruction operate in any manner to release Customer from the obligation to make payments required herein. Returns - Unless a product is labeled "all sales final" at the time of purchase, all orders may be returned within 30 days for a refund. In order to return or exchange (under the guidelines described below) all or part of your order, customer must contact us for a Return Merchandise Authorization number (RMA#). Call toll free (800) 949-8015 to obtain RMA # from a Seller's representative. All returned merchandise must be in the original packaging including manuals, accessories, cables, etc. with the authorization (RMA#) clearly printed on the outside of the package. Return requests must be made within 30 days of the receipt date. All returns must be certified to be in good condition by one of our engineers before refund can be accepted. If the product has been damaged, seller will assess the damage and will determine if the product is entitled to a refund. All free items must be returned together with purchased items in order to receive a refund. Any shipping and/or handling charges on the original order cannot be refunded. At our discretion, we may levy a restocking fee of 25% of the cost of items returned. Any vouchers or gift certificates earned by a returned order will be voided, and the voucher amount will be charged to any order to which it was applied. Installation, training or professional services are NON-REFUNDABLE. Seller is responsible for shipping costs or damage on returned items. Units to be returned should be packed carefully. Please be advised that packages sent by normal US Postal Service cannot be tracked to ensure delivery. Since Seller cannot provide credit for a return without confirming its receipt, we recommend that you use a delivery service that can be tracked and or insured.