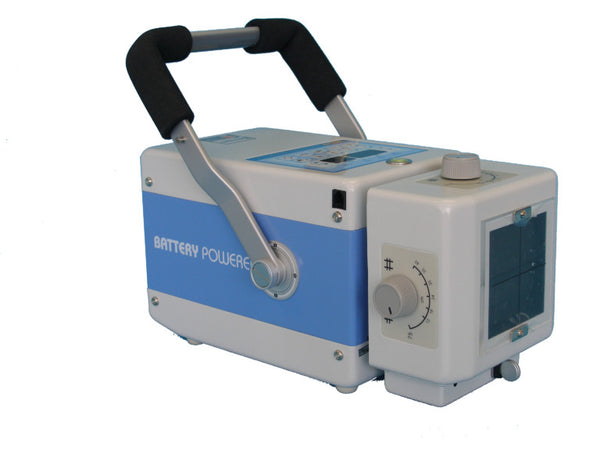 Poskom PXM-20 BT Hybrid Battery-Powered Portable X-Ray Unit is one of the most compact and lightweight battery-powered, cordless, portable X-ray units in the veterinary market today. Utilizing revolutionary micro technology and a powerful Lithium-Ion Battery, the PXM-BT portables deliver the power up to 3000 mAs without recharging the battery.

No external power source is required for producing the precious radiographic images PXM-BT generators are designed with state of the art Microprocessor Controls and PROM memory for preset APR programming, battery-status readouts and mAs energy-level displays including the dual laser collimator.
PXM-BT generator is integrated with RF wireless module ( Optional) which is facilitated by Radio-Frequency ( RF)communication device for X-ray exposure synchronization.
The Lithium-Ion battery is rechargeable and has a very long lifecycle (of over 5 years) without losing power efficiency. This battery is completely free from routine maintenance. Recharging time is approximately 2-3 hours, which is much shorter than conventional batteries.
Features:
Generator Type: Battery Powered HF Generator Micro-processor controller
Inverter Output (KW): 1.6KW, 20mA@80kV
kV Range: 40-100kV, 1kV increment
mA Range: 12 to 20mA, Variable
mAs Range: .4-50 mAs, 32 selections
Console & Display: kV & mAs LED Display, Ready & Exp. LED indicator, Collimator & Laser SW, Preset technique SW, Reversible LED readout SW
Controller Software: PROM memory :15 APR selector, Remote Control program, Programmable Laser beam & Collimator lamp, Battery Charger LCD indicator, Stand-By mode & Dimmer
X-ray Tube: Fixed Anode Type, Focal Size: 1.2mm, Anode Heat Capacity: 20 KHU
Battery Features: Rechargeable Lithiu,-Ion Type, Capacity: 1,600 mAs, Charger: 55 Watt / 110VAC, Charging Time: 3.5 hrs, Power requirement: 29.4V / 1.5A
Dual Laser: Programmable controller, 26″ Auto Focal point Dual Laser
Laser Collimator: Manual: collimator 4 blades, Programmable 10 sec. timer
Auto Compensation: Battery Voltage comp. ± 10%
Charger Power Requirement: Auto Switch, 110/220AC, 50/60 Hz
Net Weight: 21.6 lbs
Size: 13.6″x9″x6.8″
Shipping - Delivery shall be made at FOB shipping point of origin. Seller's responsibilities for the Equipment purchased pursuant hereto ceases and title and risk of loss passes to Customer upon delivery to the carrier. In the event of loss, damage, injury or destruction after such delivery to the carrier, claims must be made against the carrier and not against Seller. In no event shall any loss, damage, injury or destruction operate in any manner to release Customer from the obligation to make payments required herein. Returns - Unless a product is labeled "all sales final" at the time of purchase, all orders may be returned within 30 days for a refund. In order to return or exchange (under the guidelines described below) all or part of your order, customer must contact us for a Return Merchandise Authorization number (RMA#). Call toll free (800) 949-8015 to obtain RMA # from a Seller's representative. All returned merchandise must be in the original packaging including manuals, accessories, cables, etc. with the authorization (RMA#) clearly printed on the outside of the package. Return requests must be made within 30 days of the receipt date. All returns must be certified to be in good condition by one of our engineers before refund can be accepted. If the product has been damaged, seller will assess the damage and will determine if the product is entitled to a refund. All free items must be returned together with purchased items in order to receive a refund. Any shipping and/or handling charges on the original order cannot be refunded. At our discretion, we may levy a restocking fee of 25% of the cost of items returned. Any vouchers or gift certificates earned by a returned order will be voided, and the voucher amount will be charged to any order to which it was applied. Installation, training or professional services are NON-REFUNDABLE. Seller is responsible for shipping costs or damage on returned items. Units to be returned should be packed carefully. Please be advised that packages sent by normal US Postal Service cannot be tracked to ensure delivery. Since Seller cannot provide credit for a return without confirming its receipt, we recommend that you use a delivery service that can be tracked and or insured.