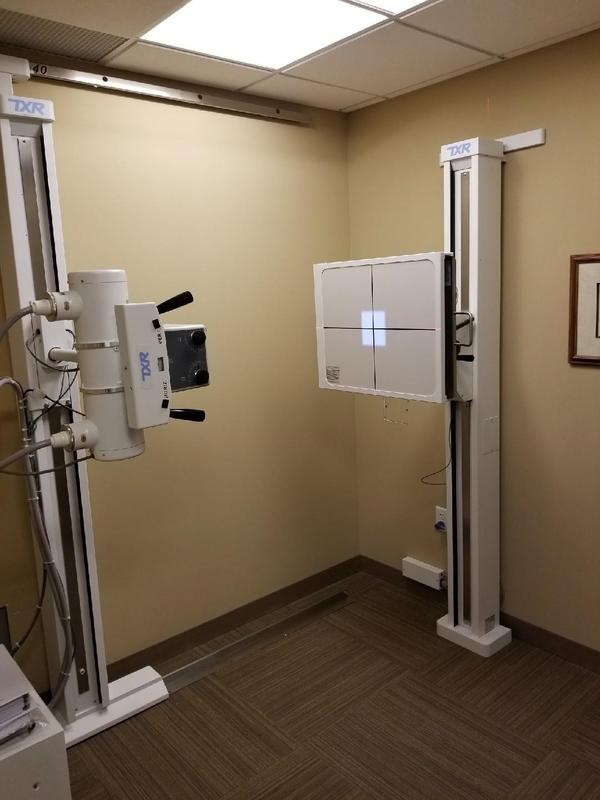 Tilting Upright and Extremity System with 32 kW High-Frequency Generator
SHF 310AP 32 kW, 400 mA, 125 kVp, 500 mAs High-Frequency Generator, 1-phase 208/240 VAC

400 mA, 125 kVp (400 mA @ 80 kVp)

Seventeen mA stations: 10, 12.5, 16, 20, 25, 32, 40, 50, 64, 80, 100, 125, 180, 200, 250, 320, 400

0.001 to 10-second time range

0.1 to 500 mAs • kVp selection, 40 to 125 kVp in 1 kV increments • Digital displays • Automatic line compensation • APR, Anatomical Programming • Table mount

Exposure hand switch

UL/CE/FDA Listed

For Operation on 1 Phase 208/240 VAC
Floor to Wall Non-Rotate Tubestand, Medical

Fits in ceiling heights of 88" - 121"

Vertical travel 11.75" - 76.75"

75.2" Longitudinal Travel with 8' floor track

21" tube arm (focal spot to the front of column 23")

32.2" focal spot from the wall

Platform tube mount, angulation dial, and operator handle

Manual lock for tube angulation

Electric lock for longitudinal and vertical travel

8-foot tracks • UL Classified operates from 24 VDC
Wall stand with Tilt

The tilting wall stand features an electric vertical lock and mechanical tilt lock; the RH load standard

Vertical travel: 15.5"-79"

Tilt mechanism +90° -45°

17"x17" grid cabinet with front panel

Heavy-duty manual cassette tray

103 line, 10:1 ratio, 40" to 72" focal range grid
Tube, 140,000HU, 0.6-1.5, 180 deg Best Focal Point
Certified Manual Collimator with laser light, LED, 125kVP
25 ft HV Cables
For power lines BELOW 208 VAC, an auxiliary boost transformer is required

1-phase Step up Transformer, 208-240V

Patient Image Flat Panel DR System 17 x 17 Cesium CSI Tethered
17x17 inch Cesium CsI Tethered, cassette size DR Flat Panel Detector, with advanced acquisition PatientImage software with Chiropractic Toolsets and PACS

System Specifications

PatientImage 17x17 inch CsI Tethered, cassette size DR Flat Panel Detector

Active area (Real Image Size): 17x17 inch
Overall Dimensions: 495.5×495.5×15.8mm (19.5x19.5x0.62 inch)
Weight: 4.3 Kg (9.5 lb)
Power Consumption: max of 21 Watt
Carbon Fiber Sensor Protection Plate
Cesium Iodide (Csl) with Amorphous Silicon (a-Si) Photodiode
Pixel Matrix: 3040(H)×3036(V)
Pixel Pitch: 140 μ m
A/D Conversion: 16 bit
X-ray Voltage Range: 40-150 kVp
Wired Interface: Gigabit Ethernet (1000BASE-T)
Control Box with AC100-240V, 50/60Hz input power, and DC24V 2.5A 60W(MAX) output power
PatientImage Acquisition Software

Superior Image Quality
Exam-specific algorithms image processing
Automatic image optimization
Edit existing patient information/search patient by patient name, patient ID, Accession number, bar code, etc.
True size for printing
Resend / Reprint image
Send/Print queue management
User-friendly touch GUI
Useful functions: Auto Cropping, Auto Grid Suppression, Auto Labeling, Auto Rotation, Free Rotation, Multi Layout, etc.
Fully DICOM 3.0 Compatible: MWL, Send, Print, MPPS, etc.
Customized functions and various themes
User Interface
User-Friendly Interface Supporting Touch Screen Functions
One Screen to Access All Functions
Same Interface for the Acquisition Software and Viewers
Image Processing With Advanced Algorithm
Fast Processing with Superior Image Quality
Intelligent Algorithms for Sharp Edges without noise amplification
Automatic image optimization

PatientImage PACS
PatientImage Server is a complete and cost effective PatientImage Imaging solution that provides imaging departments with a scalable and upgradable solution to archive patient studies. 

Includes 10 concurrent users & Chiropractic Tools.
Workstation (Min. Configuration):
i5 Intel Core
Windows 10 Professional
1 TB Hard Disk
8 GB RAM
24 inch Monitor Touch Screen Monitor (Cal Jam Upgrade)
Workstation pre-configured and with the Software installed
Includes 5 year parts warranty on DR Panel and software 
Includes 3 year warranty from Dell for computer workstation
** In order to obtain both 72" to the wall receptor and center to horizontal wall receptor, exact placement of 8' rail is required **
Maven Imaging Sample Chiro room layout
*This product has been permanently discontinued.
Replacement products available.

Shipping - Delivery shall be made at FOB shipping point of origin. Seller's responsibilities for the Equipment purchased pursuant hereto ceases and title and risk of loss passes to Customer upon delivery to the carrier. In the event of loss, damage, injury or destruction after such delivery to the carrier, claims must be made against the carrier and not against Seller. In no event shall any loss, damage, injury or destruction operate in any manner to release Customer from the obligation to make payments required herein. Returns - Unless a product is labeled "all sales final" at the time of purchase, all orders may be returned within 30 days for a refund. In order to return or exchange (under the guidelines described below) all or part of your order, customer must contact us for a Return Merchandise Authorization number (RMA#). Call toll free (800) 949-8015 to obtain RMA # from a Seller's representative. All returned merchandise must be in the original packaging including manuals, accessories, cables, etc. with the authorization (RMA#) clearly printed on the outside of the package. Return requests must be made within 30 days of the receipt date. All returns must be certified to be in good condition by one of our engineers before refund can be accepted. If the product has been damaged, seller will assess the damage and will determine if the product is entitled to a refund. All free items must be returned together with purchased items in order to receive a refund. Any shipping and/or handling charges on the original order cannot be refunded. At our discretion, we may levy a restocking fee of 25% of the cost of items returned. Any vouchers or gift certificates earned by a returned order will be voided, and the voucher amount will be charged to any order to which it was applied. Installation, training or professional services are NON-REFUNDABLE. Seller is responsible for shipping costs or damage on returned items. Units to be returned should be packed carefully. Please be advised that packages sent by normal US Postal Service cannot be tracked to ensure delivery. Since Seller cannot provide credit for a return without confirming its receipt, we recommend that you use a delivery service that can be tracked and or insured.