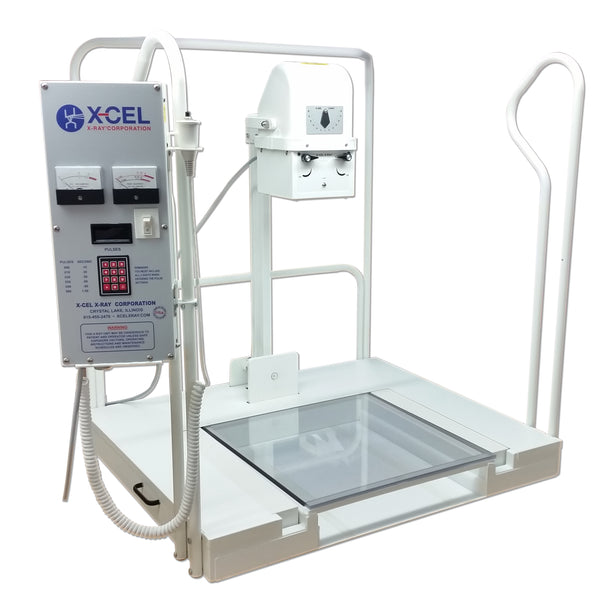 The newest easy-to-use feature is the patented Tilt-Head, which enables the user to tilt the x-ray source.
Tilt-Head units:
Eliminate the need to rotate the patient for the DP view
Eliminate the need to rotate the arm for the AP view
Eliminate the need to readjust the collimator lateral views
Enable wheelchair patients to be easily accommodated without having to leave the wheelchair
Features the low voltage expose switch with optional remote key box
Include features that can meet ADA guidelines (consult your accountant)
14 X 17-INCH CSI WIRELESS, CASSETTE SIZE DR FLAT PANEL DETECTOR, WITH ADVANCED ACQUISITION PATIENTIMAGE SOFTWARE AND PACS
System Specifications
14x17 inch CsI Wireless, cassette size DR Flat Panel Detector
Active area (Real Image Size):
360x430 (14x17 inches)
Overall Dimensions: 344x459x15 mm (13.5x18x0.59 inches)
Weight: 3.8 +/- 0.25 Kg
Power Consumption: Idle - 3.3 watts, Acquisition - 7.8 watts, Image Transfer - 10.2 watts
Pixel Pitch: 139 μ m
Pixel Matrix Size: 3,052 (v) x 2,456 (h)
A/D Conversion: 16 bit
X-ray Voltage Range: 40-150 kVp
Wireless Modes STA or AP: 802.11 a/g/n/ac, 2x2 MIMO
2 Batteries, Battery Charger, and Back-up Cable Included
Automatic Parameter Selection
Specific Anatomical Post-processing
PatientImage Acquisition Software
General Features
Superior Image Quality
Exam-specific algorithms image processing
Automatic image optimization
Edit existing patient information/search patient by patient name, patient ID, Accession number, bar code, etc.
True size for printing
Resend / Reprint image
Send/Print queue management
User-friendly touch GUI
Useful functions: Auto Cropping, Auto Grid Suppression, Auto Labeling, Auto Rotation, Free Rotation, Multi-Layout, etc.
Fully DICOM 3.0 Compatible: MWL, Send, Print, MPPS, etc.
Customized functions and various themes
User Interface
User-Friendly Interface Supporting Touch Screen Functions
One Screen to Access All Functions
Same Interface for the Acquisition Software and Viewers
Image Processing With Advanced Algorithm
Fast Processing with Superior Image Quality
Intelligent Algorithms for Sharp Edges without noise amplification
Automatic image optimization
PatientImage PACS
PatientImage Server is a complete and cost-effective PatientImage Imaging solution that provides imaging departments with a scalable and upgradeable solution to archive patient studies.
The PatientImage Server solution includes features to archive patients, retrieve studies, print studies, edit patient reports, record voice notes with patient study, and transmit studies over telephone lines or the internet.
PatientImage Server solution consists of a group of software and hardware components that have specifically chosen to provide the maximum performance and scalability.
Supports all DICOM modalities.
Archiving on PACS server and on the Network.
Multi-Level relational database structure for patients/studies/series and images.
Supports pre-fetching and auto-routing of patients to the modalities.
Scalable and Upgradable
Multi-Lingual
Easy Administration
All DICOM Features
10 Viewer license
Dell Precision 3430 Small Form Factor (Min. Configuration):
Intel Core i5-8500, 5 Core, 9MB Cache, 3.0GHz, 4.1Ghz Turbo w/
HD Graphics 630
Windows 10 Professional
1 TB Hard Disk
8 GB RAM
24 inch Monitor
Workstation pre-configured and with the Software installed
PatientImage DR warranty 
5 Year Warranty on

 

DR panel

 

parts

5 Year software warranty

Dell Computer 3 years direct from Dell Dell Monitor 

3 years direct from Dell 

Remote phone support for 1st year from Maven Imaging.
Shipping - Delivery shall be made at FOB shipping point of origin. Seller's responsibilities for the Equipment purchased pursuant hereto ceases and title and risk of loss passes to Customer upon delivery to the carrier. In the event of loss, damage, injury or destruction after such delivery to the carrier, claims must be made against the carrier and not against Seller. In no event shall any loss, damage, injury or destruction operate in any manner to release Customer from the obligation to make payments required herein. Returns - Unless a product is labeled "all sales final" at the time of purchase, all orders may be returned within 30 days for a refund. In order to return or exchange (under the guidelines described below) all or part of your order, customer must contact us for a Return Merchandise Authorization number (RMA#). Call toll free (800) 949-8015 to obtain RMA # from a Seller's representative. All returned merchandise must be in the original packaging including manuals, accessories, cables, etc. with the authorization (RMA#) clearly printed on the outside of the package. Return requests must be made within 30 days of the receipt date. All returns must be certified to be in good condition by one of our engineers before refund can be accepted. If the product has been damaged, seller will assess the damage and will determine if the product is entitled to a refund. All free items must be returned together with purchased items in order to receive a refund. Any shipping and/or handling charges on the original order cannot be refunded. At our discretion, we may levy a restocking fee of 25% of the cost of items returned. Any vouchers or gift certificates earned by a returned order will be voided, and the voucher amount will be charged to any order to which it was applied. Installation, training or professional services are NON-REFUNDABLE. Seller is responsible for shipping costs or damage on returned items. Units to be returned should be packed carefully. Please be advised that packages sent by normal US Postal Service cannot be tracked to ensure delivery. Since Seller cannot provide credit for a return without confirming its receipt, we recommend that you use a delivery service that can be tracked and or insured.