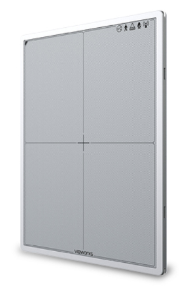 Multi-purpose Portable Flat Panel Detector for Digital Radiography
VIVIX-S Portable, Wireless is a Vieworks' 14" x 17" flat panel detector for general radiographic applications using its unique image processing system. With the size the same as that of CR cassette or films, it fits into almost all existing bucky trays. It is easy to acquire and instantly transmit images to the DICOM server through Wi-Fi network. The battery charger can recharge up to 3 batteries at the same time within 2 hours. An additional tether cable connection to the detector can also recharge the battery without removing it from the detector. Inside AP™ enables customers to take X-ray examinations directly to a computer or a laptop with Wi-Fi connection. In case of disconnection of Wi-Fi network between the detector and the image acquisition software, the detector can save up to 1 DO images at its on-board memory. After resuming communication with the detector, all saved images can be transmitted to the software.
Panel Features
High Image Quality

*Wide active area of 17″ x 17″ *High spatial resolution with 140㎛

Wireless data transmission

*InsideAP™ Fast wireless communication by IEEE 802.11n 

Convenient Usability

*VXvueTM Viewer software program operated under WindowsTM

 Stable and Reliable AED (Automatic Exposure Detection)

*Needs no connection to an X-Ray Generator Detector *AP Mode or Detector Only Mode 

Applications General

Radiography Orthopedic Chiropractic Veterinary

 
Technical Specifications of the Panel Package
| | |
| --- | --- |
|  Model Name | FXRD-1417WA / FXRD-1417WB |
| Technology | a-Si TFT with photodiode |
| Scintillator | CsI:Tl / Gd2O2S:Tb |
| Pixel Pitch | 140 ㎛ |
| Spatial Resolution | 3.5 lp/㎜ |
| Pixels | 2560 x 3072 pixels |
| Image Size | 14" x 17" (35.8 ㎝ x 43.0 ㎝) |
| Grayscale | 14 bit |
| Image Acquisition Time | Wired: 2 s Wireless (preview): 2 s Wireless (high resolution): 4.5 s |
| Recommended Cycle Time | 15 s |
| Data Interface | Gigabit Ethernet IEEE 802.11 a / b / g / n |
| X-ray Generator Interface | Line trigger: DR trigger Mode Auto trigger: AED Mode |
| Dimensions | 38.4 ㎝ x 46.0 ㎝ x 1.5 ㎝ |
| Weight | 1417WA: 3.4 kg (including battery) 1417WB: 3.3 kg (including battery) |
| Battery | Lithium Ion 4000 mAh 4 h (Capturing) |
| Dust and Water Resistant | IPX3 |
| X-ray Voltage Range |   40 - 150 kVp |
| Operating Environment | 10℃ to 35℃ 30 % to 85 % RH (non-condensing) |
| Power | DC 24 V, 0.5 A |

* Specifications are subject to change without prior notice.

Workstations Specs
 1TB Local Mini-PACS in a RAID 1 (2 Total Drives)
Intel Core i3 Processor 6100 CPU (3.7 GHz)
4GB, Windows 7 Professional 64-bit VXvue Acquisition Software
Monitor: 23″ Touch Screen – Resolution 1920×1080 Ratio: 1000:1
Licensed MIRAssist Bridge 2x1TB (1TB RAID 1)

Warranty
| | |
| --- | --- |
| | Five (5) year Panel Manufacturer Warranty |
| | Three (3) year Computer Acquisition Station and Monitor Warranty from the Manufacturer* *Station and Monitor Warranty plan includes Next Business Day On-site Support from Lenovo |
Available Options
SYSTEM OPTIONS

Additional Viewing Licenses
Mobile App for iPad and iPhone
Laptop or Tablet for Mobile Applications
Protective Case with Handle for movable applications
Drop Insurance Coverage
OPTIONAL DROP INSURANCE COVERAGE

Covers damage to the panel caused by an accidental drops
Interest free financing for multi year policies.
Coverage will not be cancelled due to claims.
Pricing is fixed for the duration of the enrollment.
Permanent detector replacement sent directly from the manufacturer.
Coverage is provided for up to (2) occurrences per year. 
 
VXVue Software 
The VXVue Acquisition software with Pureimpact ™blends cutting edge technology with a user friendly interface. The software features: easy management for simplified work flow, post-processing algorithm for an efficient diagnosis, various image adjustment tools, a user-friendly touch interface with intuitive GUI, and customizable skins.
Shipping - Delivery shall be made at FOB shipping point of origin. Seller's responsibilities for the Equipment purchased pursuant hereto ceases and title and risk of loss passes to Customer upon delivery to the carrier. In the event of loss, damage, injury or destruction after such delivery to the carrier, claims must be made against the carrier and not against Seller. In no event shall any loss, damage, injury or destruction operate in any manner to release Customer from the obligation to make payments required herein. Returns - Unless a product is labeled "all sales final" at the time of purchase, all orders may be returned within 30 days for a refund. In order to return or exchange (under the guidelines described below) all or part of your order, customer must contact us for a Return Merchandise Authorization number (RMA#). Call toll free (800) 949-8015 to obtain RMA # from a Seller's representative. All returned merchandise must be in the original packaging including manuals, accessories, cables, etc. with the authorization (RMA#) clearly printed on the outside of the package. Return requests must be made within 30 days of the receipt date. All returns must be certified to be in good condition by one of our engineers before refund can be accepted. If the product has been damaged, seller will assess the damage and will determine if the product is entitled to a refund. All free items must be returned together with purchased items in order to receive a refund. Any shipping and/or handling charges on the original order cannot be refunded. At our discretion, we may levy a restocking fee of 25% of the cost of items returned. Any vouchers or gift certificates earned by a returned order will be voided, and the voucher amount will be charged to any order to which it was applied. Installation, training or professional services are NON-REFUNDABLE. Seller is responsible for shipping costs or damage on returned items. Units to be returned should be packed carefully. Please be advised that packages sent by normal US Postal Service cannot be tracked to ensure delivery. Since Seller cannot provide credit for a return without confirming its receipt, we recommend that you use a delivery service that can be tracked and or insured.