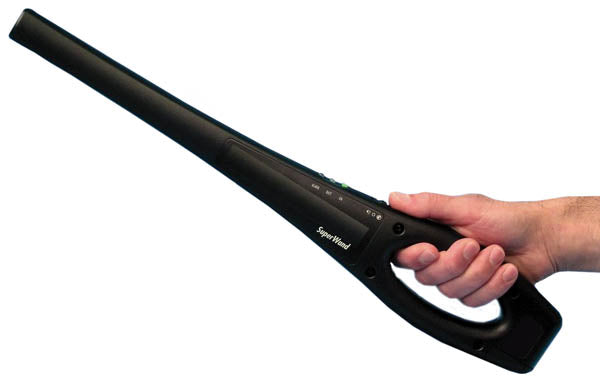 Safety by choice, not by chance! The SuperWand® wireless handheld metal detector is perfect for screening patients and employees prior to entering an MRI room. This superior detector gives patients and employees peace of mind that they are free of any dangerous metallic objects!
The SuperWand's exclusive 360° detection field provides uniform sensitivity and tip pinpointing to detect metal objects with extreme accuracy. This wand provides incredibly accurate detection of all ferrous, non-ferrous and other metallic items and never needs adjusting!
Featuring a convenient to use On/Off switch and easy to see three-color LED indicators for quick and efficient scans. The ability to easily swap from an audible beep to a silent vibrate makes this the perfect choice for any situation!
Superior and lightweight design, perfect for quick and effective MRI prescreening!
Incredibly accurate detection and automatic retuning that never requires adjustment
360° accurate scanning from head to foot
Easy to use one-touch On/Off button
Bright and visible three-color LED lights for quick identification
Comfortable ergonomic designed grip
Dimensions: 15x14x19 
Shipping - Delivery shall be made at FOB shipping point of origin. Seller's responsibilities for the Equipment purchased pursuant hereto ceases and title and risk of loss passes to Customer upon delivery to the carrier. In the event of loss, damage, injury or destruction after such delivery to the carrier, claims must be made against the carrier and not against Seller. In no event shall any loss, damage, injury or destruction operate in any manner to release Customer from the obligation to make payments required herein. Returns - Unless a product is labeled "all sales final" at the time of purchase, all orders may be returned within 30 days for a refund. In order to return or exchange (under the guidelines described below) all or part of your order, customer must contact us for a Return Merchandise Authorization number (RMA#). Call toll free (800) 949-8015 to obtain RMA # from a Seller's representative. All returned merchandise must be in the original packaging including manuals, accessories, cables, etc. with the authorization (RMA#) clearly printed on the outside of the package. Return requests must be made within 30 days of the receipt date. All returns must be certified to be in good condition by one of our engineers before refund can be accepted. If the product has been damaged, seller will assess the damage and will determine if the product is entitled to a refund. All free items must be returned together with purchased items in order to receive a refund. Any shipping and/or handling charges on the original order cannot be refunded. At our discretion, we may levy a restocking fee of 25% of the cost of items returned. Any vouchers or gift certificates earned by a returned order will be voided, and the voucher amount will be charged to any order to which it was applied. Installation, training or professional services are NON-REFUNDABLE. Seller is responsible for shipping costs or damage on returned items. Units to be returned should be packed carefully. Please be advised that packages sent by normal US Postal Service cannot be tracked to ensure delivery. Since Seller cannot provide credit for a return without confirming its receipt, we recommend that you use a delivery service that can be tracked and or insured.