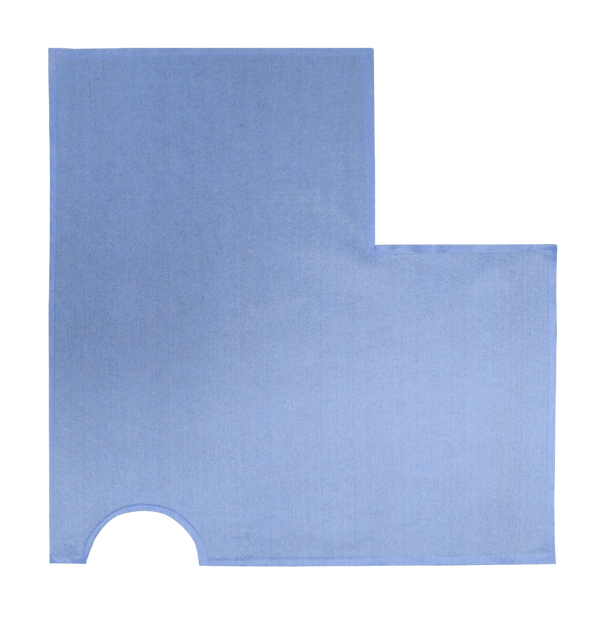 The "L-Shaped" Ablation Shield is used on cardiac ablation procedures and is placed across the lower abdomen with the cut-out above the femoral access to provide the greatest area of coverage during the procedure. Cardiac ablation is a procedure utilized to correct heart rhythm issues. Due to the duration and high fluoro exposure, it is imperative to protect against the high levels of scatter radiation emitted from the patient.
18.5″ x 20″ Shield Size
< 0.25mm LE Protection
< 92% at 90 KVp
How it Works
Sterile Scatter Armor Shields are placed on top of the patient drape to block scatter radiation at the source, creating a scatter-free zone, reducing harmful radiation exposure to the doctor or clinician.
One Time Use
Scatter Armor Shields are lead-free and disposable.
Sterile
Packaged individually in sterile packets.
Flexible
Scatter Armor Shields easily mold to the patient's body for ease of use and maximum protection
Shipping - Delivery shall be made at FOB shipping point of origin. Seller's responsibilities for the Equipment purchased pursuant hereto ceases and title and risk of loss passes to Customer upon delivery to the carrier. In the event of loss, damage, injury or destruction after such delivery to the carrier, claims must be made against the carrier and not against Seller. In no event shall any loss, damage, injury or destruction operate in any manner to release Customer from the obligation to make payments required herein. Returns - Unless a product is labeled "all sales final" at the time of purchase, all orders may be returned within 30 days for a refund. In order to return or exchange (under the guidelines described below) all or part of your order, customer must contact us for a Return Merchandise Authorization number (RMA#). Call toll free (800) 949-8015 to obtain RMA # from a Seller's representative. All returned merchandise must be in the original packaging including manuals, accessories, cables, etc. with the authorization (RMA#) clearly printed on the outside of the package. Return requests must be made within 30 days of the receipt date. All returns must be certified to be in good condition by one of our engineers before refund can be accepted. If the product has been damaged, seller will assess the damage and will determine if the product is entitled to a refund. All free items must be returned together with purchased items in order to receive a refund. Any shipping and/or handling charges on the original order cannot be refunded. At our discretion, we may levy a restocking fee of 25% of the cost of items returned. Any vouchers or gift certificates earned by a returned order will be voided, and the voucher amount will be charged to any order to which it was applied. Installation, training or professional services are NON-REFUNDABLE. Seller is responsible for shipping costs or damage on returned items. Units to be returned should be packed carefully. Please be advised that packages sent by normal US Postal Service cannot be tracked to ensure delivery. Since Seller cannot provide credit for a return without confirming its receipt, we recommend that you use a delivery service that can be tracked and or insured.